Archive | Content
RSS for this section
Nick Grimshaw and the BBC Radio 1 Breakfast Show asked their audience to recreate a favourite Bond scene, with a chance of meeting and interviewing Daniel Craig and Naomie Harris as the prize.  Listeners were encouraged to produce a one-minute video and upload it to YouTube.  To kick-start the campaign and inspire the public to get involved, Greg James, one of the DJs on Radio 1, made his own video in which he emerges from the sea à la Daniel Craig – which has now gone viral.
At a local train station, Coke Zero challenged unsuspecting passers-by to unlock the 007 in them for a chance to win exclusive tickets to the new Bond film.  In true James Bond style, contestants had to go the extra mile—overcoming obstacles and delays in less than 70 seconds to win.  Brilliant content by Coke. It looks like there's a little 007 in everyone.
Making brilliant use of their leading music, movies, games and technology, the Sony Entertainment Network has brought everything they do best under one roof to create unique content. Add a great soundtrack by Swiss Lips (one of their newest artists), and the result is truly inspiring.
Great crowd-sourced content brought to you by Nexus (Art of Transport Scheme), with support from FACT Services Liverpool.  At a bus station in Newcastle, commuters and passers-by were invited to contribute a note or two to a Beethoven Sonata – they all lent a hand and shared in a centuries-old musical tradition. Compared to some more elaborate flash mob performances, this is rather simple: less is more.
In July this year Mastercard launched "Check In", a competition in which the winner gets to follow the All Blacks on the Air New Zealand European Tour in November.  This advert, voted New Zealand's favourite in the Fair Go Best Ad Award, is an amusing and endearing look at the enthusiasm of the All Blacks' fans, and their relationship with the players.
US luxury gym line Equinox, which launched in London this week, fuses fitness, fashion, and high-quality content focusing on brand building, aspiration and their award-winning instructors, rather than the physical environment of their gyms. The result is compelling. Will you sign up?
Expedia have created a series of human stories, both user-generated content and selective brand-produced films to convey their personal touch – every trip is unique and transformative. Working with travel bloggers, this approach aims to provide the Expedia brand with an aspirational identity, rather than a quick booking site.
PokerStars have drafted in Spanish tennis player, Rafa Nidal, to rehearse his bluffing skills in an amusing piece of content which promotes the recently opened online poker market in Spain.  The film shows Rafa posing as a receptionist at a Golf Course in Mallorca, and trying to convince customers that he's not the tennis star. The release date of the film is pertinent too; with the Ryder Cup in full swing this week, this content will generate a strong dialogue for the brand.
Politically-charged, Brazilian graffiti artists are the stars of Asos' gritty, mini-film to promote their new association with Puma X Black. With brand logos noticeably absent, the film delivers the typical Puma, everyday athlete vibe, and is filled with street cred to engage a young male audience.
September 17th saw Volkswagen debut their campaign for drivers to share their stories, be it unforgettable road trips, fun first dates or sustainable customisations of their cars.  Volkswagen has invited their customers to tell the online community why they love their car and share their fondest memories of it.  By asking their consumers to define what Volkswagen means to them, the power and scope of the carefully curated campaign rests on who is most important to the brand.
Despite our internal debate as to whether the Democrat Party should be considered a brand, this Obama campaign video certainly garners attention:  Samuel J. Jackson has been recruited by the Jewish Council for Education and Research to speak frankly to young people about the importance of voting, canvassing and donating to Obama's re-election campaign.  Filled with crucial facts, this humorous, no-nonsense film endorses Obama's manifesto and inspires the viewers to get up and get engaged, and with over half a million shares in the last five days, this video is set to go viral.
Branded content
Monsoon and Accessorize Move into Digital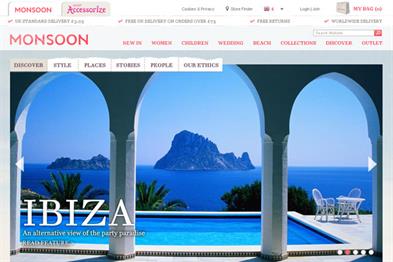 Monsoon and Accessorize have launched a major new area of digital content on their websites this week. Monsoon Discover provides customers with articles surrounding the origins and ethics of their clothing, and includes a travel section featuring places such as Jaipur, India, which has inspired several of the pieces in the current collection. With magazine-style articles and contributions from professional travel writers, it looks set to become a market leader for retail fashion content in the future.
5 Reasons your Branded Content is Failing
Brand's are recognising the need to build their owned media channels and act more like a publisher. However this is still in its infancy and there are many lessons to be learnt. Here's 5 common mistakes to consider; you haven't developed a brand voice, self-promotion & pushing product is too heavy handed, you're not guest writing anywhere, you're not distributing your content to new audiences, you're not tailoring your content mix to the needs of the platform.
Almost all of this week's Viral Video Ad Chart is composed of longer form branded content, and Go Pro – the first name in action cameras, is the latest brand trying this approach. There are many ways to create a camera advert, the first two that come to mind are 30 second spots featuring the shiny little box from all angles (in a range of colours, don't you know) or groups of young, fresh-faced friends snapping their fun times. Go Pro instead decided to show how good their product is by shooting a 5 min film with it, which has so far received over 14,000,000 views.
Agencies & Lifestyles of the future
How will developments within mobile, social and local shape our lives in the future? The brand consultancy team at Wolff Olins build on Mary Meekers Internet Trend Report to make some predictions…will we soon be watching Match Of The Day composed by 40,000 people filming from every angle and paying digital buskers through contactless payments?
Enabling Agile Creativity in Agencies
As brand communication needs to be increasingly of the moment, traditional ad agencies need to evolve to be faster and more flexible. Think with Google have released 7 tips for greater agility and those centred around increasing collaboration are especially relevant for our move to Kameleon's new office.