Archive | August 2012
Branded content
Monsoon and Accessorize Move into Digital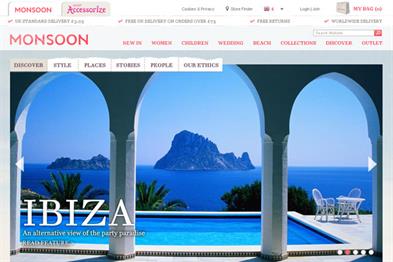 Monsoon and Accessorize have launched a major new area of digital content on their websites this week. Monsoon Discover provides customers with articles surrounding the origins and ethics of their clothing, and includes a travel section featuring places such as Jaipur, India, which has inspired several of the pieces in the current collection. With magazine-style articles and contributions from professional travel writers, it looks set to become a market leader for retail fashion content in the future.
5 Reasons your Branded Content is Failing
Brand's are recognising the need to build their owned media channels and act more like a publisher. However this is still in its infancy and there are many lessons to be learnt. Here's 5 common mistakes to consider; you haven't developed a brand voice, self-promotion & pushing product is too heavy handed, you're not guest writing anywhere, you're not distributing your content to new audiences, you're not tailoring your content mix to the needs of the platform.
Almost all of this week's Viral Video Ad Chart is composed of longer form branded content, and Go Pro – the first name in action cameras, is the latest brand trying this approach. There are many ways to create a camera advert, the first two that come to mind are 30 second spots featuring the shiny little box from all angles (in a range of colours, don't you know) or groups of young, fresh-faced friends snapping their fun times. Go Pro instead decided to show how good their product is by shooting a 5 min film with it, which has so far received over 14,000,000 views.
Agencies & Lifestyles of the future
How will developments within mobile, social and local shape our lives in the future? The brand consultancy team at Wolff Olins build on Mary Meekers Internet Trend Report to make some predictions…will we soon be watching Match Of The Day composed by 40,000 people filming from every angle and paying digital buskers through contactless payments?
Enabling Agile Creativity in Agencies
As brand communication needs to be increasingly of the moment, traditional ad agencies need to evolve to be faster and more flexible. Think with Google have released 7 tips for greater agility and those centred around increasing collaboration are especially relevant for our move to Kameleon's new office.